WOW!! What a difference a month can make. Those warm sunny days in January we once boasted about have become a distant memory. Over the first few weeks of February it seems like Mother Nature has pointed every imaginable weather scenario directly towards the Florida Gulf Coast. Wind, fog, rain, sunshine, frost, sleet, tornados, the list goes on and on. If you want excitement come to Florida for a week and see what type of grab bag weather pattern you could be in store for.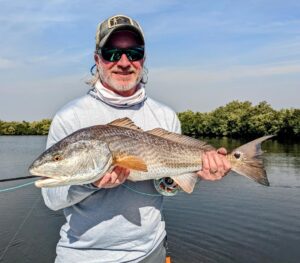 As crazy and unpredictable as the weather has been over the last couple of weeks the fishing has been anything but this month. When unstable weather patterns set in savvy fishing guides find themselves mainly targeting the heartiest of inshore fish species. Sheepshead, Black Drum and especially Redfish are all species that handle winter weather changes the best due in large part to the extra large thick scales that help protect these fish during times of rapidly fluctuating water temperatures. Although thick scales help to insulate these fish more often than not these species need to seek out areas of warmer water throughout the day to stay comfortable.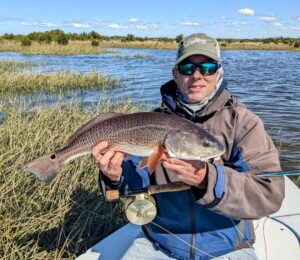 Locating comfortable fish in warm water is the key to success this month.
During most of our guided fishing trips this month the name of the game is to get super shallow. The shallower the better!!! Shallow water heats and cools rapidly this time of year. In certain instances a flat that's 10" deep could be 56° at sunrise but could warm all the way to 62° by lunchtime. Those are the types of flats that actively feeding fish seek out and luckily enough myself and the guides of Reel Florida Fishing Charters are on the water enough to know the optimal time to be on such a flat.
Time on the water is also key these days. Fish patterns change almost as much as the weather but since the start of the New Year one pattern has remained the same. PINK!!!! Pink flies that is. For 100 years pink has been a color that anglers either love or hate. I for one have never loved pink until I was presented with a fly years ago by one of my anglers that explained to me this fly was a sure bet. At first I was extremely optimistic but after a day full of positive reactions towards such a fly I was hooked. Now this beautifully tied fly with a pink chenille head, craft fur tail, and a couple of gold silly legs off the back have landed more Redfish on my boat than any other fly-fished. The pink chenille stands out so well in shallow water that both fish and angler can see it a mile away. We call this lucky fly the pink "sheneneh" on my boat and if you're targeting Redfish in insanely shallow water this pattern should get a few looks the next time you sit down at your vise.
FISH ON MY FRIENDS!!
Capt. Kyle Messier (Orvis Endorsed)
352-634-4002
WWW.FLYFISHINGCRYSTALRIVER.COM