What a difference a month can make. A month ago we were lucky to be talking about 60 degree weather here along the Nature Coast but here comes February and we have already been blessed with a number of days in the 70's and we are sure to see a few days near 80 (Life is Good!!!). With all of this warmer weather the waters around the flats of Homosassa and Crystal River are finally beginning to warm up. This warm up has triggered a few scenarios that normally occur in March and April but we are already being spoiled with some of the benefits of Spring.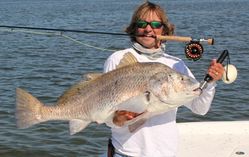 Massive amounts of bait including shrimp, crabs, and number of baitfish have all returned to our local flats and not following far behind are migrating Sheepshead, Black Drum, Redfish, Spanish Mackerel, and even a few Tripletail. The Sheepshead fishing at the moment is in PrimeTime. Considering that most Sheepshead have already spawned, the ones that have inundated many of the local structures including rock, wrecks, reefs, markers, and oyster bars are feeding like crazy to try and build up body mass they may have lost while spawning offshore. All it takes is a hand full of chum (shrimp or crabs) to start a feeding frenzy and when the action starts it can be fast and furious. Sheepshead ranging from 2-5lbs is the norm but there have been some Bruisers taken over 6lbs. Sheepshead fishing is a blast on light tackle and with our local waters being so clear, sight fishing to these striped swimmers is an everyday occurrence.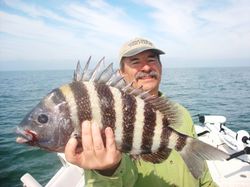 Now the moment that I have been waiting for: Recent indications appear to point towards an early arrival of the Giant migrating Black Drum. In recent weeks a few small pods have made their presence on the flats, but a few pods containing more than 20-30 fish have already been spotted. Clear sunny days have been key when sight fishing these massive fish and there have already been a few over 30lbs landed.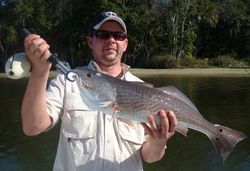 If you want to try a little something different, targeting these Giant Black Drum on fly gear makes for an interesting adventure. All Black Shrimp and Crab patterns work best but more World Records have been set using an all Black Clouser Minnow than any other fly. When we target these boys on fly a stiff 10wt rod is tops for doing battle with these hard charging fish.
As you can see warmer days and unbelievable fishing is right around the corner. So if you're looking for the cure to cabin fever, Reel Florida Fishing Charters and Capt. Kyle Messier may have cure you have been looking for this winter!!!!