Well, it's been an epic scallop season for the Nature Coast so far this year. The relatively dry weather (up until last week) has resulted in the clearest water in years, and the biggest crop of scallops this decade. In recent weeks many scallopers have been finding an abundance of scallops loaded with barnacles on them. This is a healthy sign for our scalloping grounds considering that barnacles are frequently found on scallops that have survived for two summers.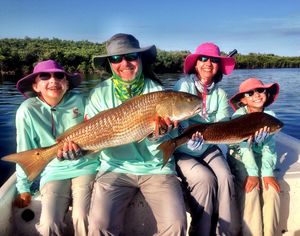 The positive news on the age of our scallops and the health of our turtle and eel grasses is just the start of the good news. Our most recent scalloping trips have been targeting depths that are relatively shallow (4 feet or so), which makes scalloping much easier for kids. It's hard to list hot spots because literally anywhere you go with mixed turtle and eel grass, especially when there are sandy areas, you will find lots of scallops. The grass flats outside of Gomez Rocks and areas between the St Martins Keys and Rock Island Channel have been holding tons of boats, so exploring other areas with sand and grass to the east and west of these congregations is a good idea.
Although most visitors of the Nature Coast will be enjoying the great scalloping action there are still tons for great angling opportunities available to anglers of all different skill levels. The backcountry waters surrounding Ozello and Crystal River will continue be the top targeted areas due to the great Redfish action. The relatively shallow waters encompassing many of the mangrove laden back bays are great places to target skinny water tailing Redfish. 1" chunks of cut ladyfish, pinfish, pigfish, mullet and lizardfish are for sure bets as the pinfish activity is so bad that a live shrimp won't last 20 seconds upon hitting the water. In certain instances some of the larger schools of Redfish can often be extremely picky, when this occurs a quartered blue crab will often drive these finicky fish into a frenzy. Circle hooks are a must this time of year as most fish are well over the slot size of 27".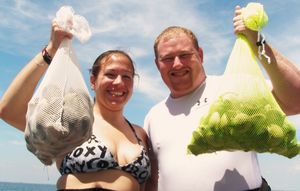 For those anglers that are looking for a worthwhile trip, think of targeting HUGE Black Drum and Redfish in the morning before hitting the water to cool off while Scalloping. Our VIP trips are extremely popular this time of year as it allows visitors to split their trip up between fishing, scalloping and swimming with the manatees in some of the crystal clear springs found in the Crystal River. Can you imagine bagging 10 gallons of Scallops after landing a ton of backcountry Redfish and Black Drum ranging from 20-60lbs? Sounds like a great time to me.