As we stroll into the second week of February (at least I think its February) all indications are that the above average temperatures of the New Year will continue to be the norm well into spring.  This warming trend will only accelerate the arrival of the increased fishing activity that marks every Nature Coast spring season. In years past, consistent air and water temperatures in the mid to upper 70's were a March event…however the forecast for the next few weeks shows mid 70's for daytime highs on most days with mild evening temperatures to boot.  Whatever the case may be it's a safe bet that most Nature Coast Anglers will continue to reap the fishing rewards of all this unseasonably warm weather.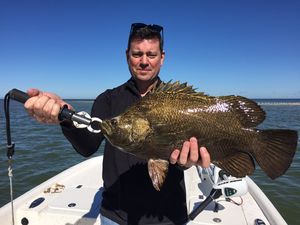 Savvy Nature Coast anglers are finding an abundance of large Speckled Trout, Tripletail, Pompano and even Permit congregating along the flats off both Homosassa and Crystal River. Large Speckled Trout in the upper 20-30" range have been frequent visitors on many of the shallow oysterbars and crystal clear sand flats that make our area so famous this time of year.  Live Select Shrimp continue to remain the baits of choice for most local anglers. In years past the month of February typically has been one of the more difficult months of the year to find large select shrimp considering that when water temperatures drop most shrimp bury themselves in mud or sand to stay warm.  Since our area really hasn't experienced many cold days this season, most shrimpers are still finding plenty of live shrimp to satisfy local anglers.  The abundance of shrimp this time of year is also what's keeping anglers constantly hooked up with late season Tripletail, Pompano, and Permit.
Historically the month of February is usually considered a transition month for Redfish.  Typically, large schools of Redfish begin to congregate as the warmer days of March approach.  Potholes on sun drenched flats as well as oyster bars are prime areas to target Redfish this month and most Nature Coast guides will target these fish with large live shrimp, Berkley Gulp! Shrimp and DOA Shrimp as winter redfish tend to be more "crustacean oriented" this time of year. For those anglers looking for the best opportunity to put a bend in a fly rod now is a great time to target Tailing Redfish, as water temperatures remain high (for the time of year) and low tides remain extremely low. Shrimp flies such as Borski Sliders, Craft fur Shrimp, and even tan and yellow Clousers are all Primo flies this month.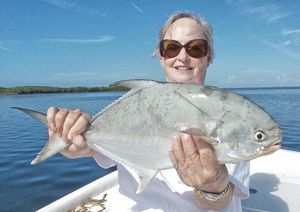 For a little variety Nature Coast anglers are finding that the near shore rock piles and reefs are loaded with tasty Sheepshead. Sheepshead have returned in abundance this season and all indications are that this healthy population is feeding tirelessly during periods of great weather. Although impending cold fronts tend to chase Sheepshead further offshore towards more consistent water temperatures, our unseasonably warm weather may well have kept them closer to shore than normal this year.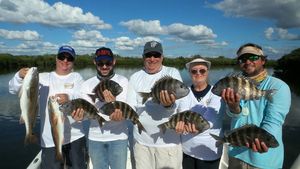 Sheepshead provide great sport for a variety of reasons. First, they are usually very cautious and constant nibblers. Most Nature Coast Fishing Guides know that a multitude of tactics will be needed to trick these wary fish. Free-lining both live and dead shrimp and crabs to the bottom at varying depths are all part of this equation. On "good" days, fish will be careless and respond to any and all baits that hit the water. Other days these fish just seem to swim and sample your baits making for a frustrating day. Aggressive chumming is a standard requirement for getting these fish in a biting mood. The second reason that these fish are great sport is that they pull like crazy and seek structure. Using medium action spinning rods, a 4lb Sheepshead will give most anglers all they want.
With all of this great weather and even better fishing now is a great time to hit the waters of the Nature Coast for a fantastic fishing day. Please feel free to contact Reel Florida Fishing Charters at any time to reserve your next great Fishing Adventure.