It's been sixteen years now since I made the great decision to become a Nature Coast fishing guide and although this journey has taken me all over the United States, the Caribbean, and Florida I still find that there is no place on earth that offers all of Mother Natures beauty and incredible fishing like the areas encompassing Crystal River, Ozello, and Homosassa. To say that I am spoiled is an understatement, but everyday I look forward to sharing the best of the Nature Coast with visitors from all over the world. Over the last couples of weeks, even into early February my visiting anglers have all been spoiled with some incredible weather and some truly Epic catches.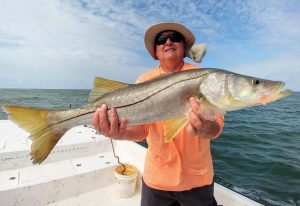 So where do I even start when talking about the fishing as of late? I could go on and on about the great Speckled Trout fishing going on along our shallow grass flats stretching from Ozello to Crystal River or I could brag about the best Sheepshead days that I have ever seen in Yankeetown, but I will start by talking about some of the largest Redfish that the shallow waters off Ozello have ever seen.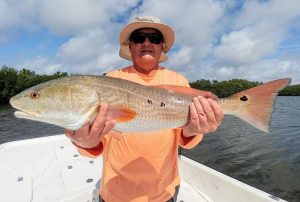 Over the last week local water temperatures have been rising back closer to that magic 70° water temperature mark. As our shallow waters continue to warm up millions of tiny pinfish, pigfish, and needlefish that have spent their winter offshore migrate closer towards the coast. Massive schools of oversized Redfish that usually patrol our offshore waters have found these pods of bait earlier than normal this year and because these bait schools are so massive these Redfish are now following these bait schools into the shallows. Targeting these Bronze Bruisers isn't easy but I have found that once you find the bait you will find the Redfish. Casting soft plastic jigs from Mirrolure Lil Jon's to Berkley Gulp! Shrimp are by far the best bets when targeting Large Oversized Redfish as these baits can cover all different depths of the water column. Once you hook up on one of these fish promptly mark the area with a buoy marker or GPS mark, as these Huge Redfish normally do not stray far from the bait schools.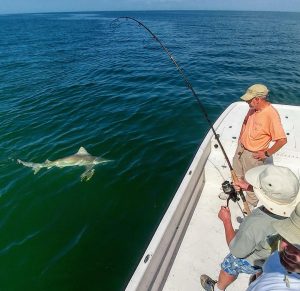 If targeting these baits schools sounds like a blast anglers must remember that Huge Redfish are not the only predatory fish following these schools this time of year. Speckled Trout, Snook, Spanish Mackerel, Bluefish and Sharks will all be on the hunt as well. Targeting the varieties of Sharks that venture closer to shore these days are a high priority on most of my charters this time of year. There is nothing like watching that Jaws moment where a shark's fin protrudes out of the water making its way to a large piece of cut bait at the end of your rod. Bull Sharks and Blacktips will be the most abundant sharks over the coming weeks but anglers are often shocked when they set the hook on a Shark only to find out that it's a Hammerhead, Tiger or my favorite the Spinner shark. The beauty of Shark fishing is that they all put up a great fight and most if not all are released to fight another day.
The weather is beautiful and the fishing is great. Book your next Reel Florida Fishing Charter today.