WOW!! What a special New Year 2016 has been. Spotty beautiful weather has led to some interesting fishing days but the true headline for 2016 has to be that the Inshore fishing along the Nature Coast is the best I have ever seen to start a New Year. Great catches of Speckled Trout, Sheepshead, Black Drum and Huge Redfish are just the start. With the Nature Coast experiencing warmer than normal temperatures to start the year many anglers are finding great Gag Grouper catch and release action along many of our shallow rocks, wrecks, and reefs as well as good schools of Permit sunning themselves along many of our shallow oyster flats. All in all it appears that 2016 is going to be one of those Epic fishing years that anglers are not going to want to miss.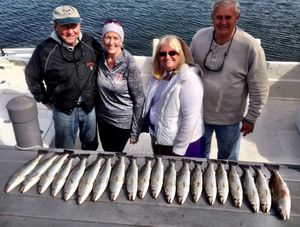 Nature Coast Permit are rare to say the least but Permit in general outside of the Caribbean and Central America are the true needle in the haystack fish. Widely known for their keen eyesight and sense of smell Permit are one of the most challenging fish in the world to target on both spin and fly. During the winter months ranging from December through early March Permit can be targeted while sight fishing for other species along many of our oyster flats that we have scattered along our coast from Homosassa to Yankeetown. Targeting areas of current with sharp drop offs are great areas to target and normally once you find one Permit in an area chances are there will be many more along the same flat. Chumming with small shrimp and crushed crabs is ideal for drawing these challenging fish in closer for fly casters. Considering that most of these fish are smaller in size compared to their Caribbean counterparts casting bonefish flies like the Bonefish Slider and even Crazy Charlie's will put anglers in the game.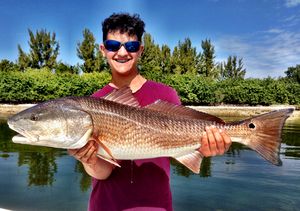 As unusual as targeting Permit in our shallows seems for this time of year, the true gem of our shallow water fishing will be the large schools of giant Redfish roaming around our flats. Some of the largest schools of Bull Redfish have inundated our local waters early this year. Normally the months of August and September are widely known as our big Redfish months but January and February have already yielded a number 12-15lb fish and a true whopper weighing in at close to 18lbs. As Awesome as our Redfish Action has been, to step up the excitement level a notch we have actually been targeting these fish in gin clear waters less than 8" deep while sight fishing with small live shrimp and crabs. The key to targeting fish in this shallow water is the presentation. Long casts with little to no weight is the key. A 1/0 live bait hook with a 15lb Fluorocarbon leader has been the rig of choice.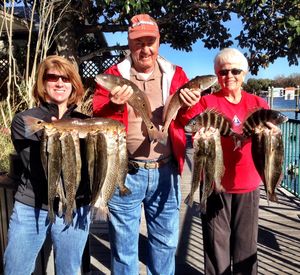 With so much great skinny water action it has been an after thought to venture out along our near shore waters as of late. But as good as the skinnies have been, the fishing that anglers are finding in that 5-7ft of water range has been equally as impressive. Speckled Trout normally head way offshore or way inshore this time of year. However, with our water temperatures taking their time to reach that drastic 58 degree mark, Speckled Trout have been found and targeted along some of the deeper grassy areas as well as on many of the same sand flats that are widely known for Pompano and Flounder in the fall. Its these deeper sandy areas that will hold an abundance of shrimp and bait fishing this time of year due to the fact that sandy areas with limited amounts of current tend to warm faster than areas of deeper water with lots of current. The beauty of targeting Speckled Trout in clear water with sandy bottom this time of year is that normally you can watch a school of fish fight for your Shrimp, Gulp or fly. This is truly a rush to watch!!
With some of the best winter fishing that I have ever experienced going on right now I really can't wait to see what the spring will have in store for us this year. Could Sharks, Tarpon and Cobia arrive early this year? Could the Tripletail come in a few months earlier? I for one cannot wait to see where this great Action takes us as the New Year Progresses.