Well it's hard to believe that we are almost to the mid point of February and the major story still remains to be the Unbelievable Beautiful weather that has persisted here in Florida. Over the last month my clients and I have been in awe over the mild 70 degree temperatures we have been spoiled with since the New Year. Never in my life have I seen such a consistent weather pattern during the early part of a New Year as to what we are witnessing at the current moment. That being said our unseasonably warm weather pattern has been that basis for an unseasonable warm water temperature. It's the arrival of upper 60 degree water temperatures that has been the platform by which most native and migratory fish species have seemed to thrive in.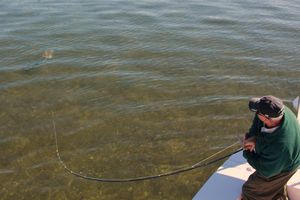 Normally, this time of year myself and every other local from the area is anticipating the arrival of Spring weather. Well now that we have seemed to have entered Spring in early January most of us are wondering if this is to good to be true.
TO GOOD TO BE TRUE IS AS FOLLOWS:
Pelagic species such as Spanish Mackerel, Bluefish and Bonita have already found the warm waters of the Nature Coast. This is 2 months early.
Grouper have inundated our shallow rocks, wrecks, and reefs. This is 2 month early.
Speckled Trout have hit our massive system of Grass Flats. This is 1 month early.
Sheepshead have already spawned and are feeding like crazy. This is 1 month early.
Huge Schools of Black Drum are lined up on the local flats. This is 1 month early.
Two of the major current fishing focuses that are occurring along the Nature Coast as we speak are the Awesome Sheepshead fishing that is scattered along many of our local structures and targeting Huge Black Drum in shallow clear water.
The Sheepshead bite normally kicks off during this time of year but the fact that these fish have already spawned and are hungry for anything that swims, crawls, or fleas is a major highlight for Nature Coast Fishermen/women. These tasty crustacean eaters are by far one of the tastiest fish that swims and can be targeted a variety of ways including chumming, sight fishing, or blind casting. The trick when fishing for these Sheepies is to be prepared for a long drawn out nibble fest. A Sheepheads bite can feel like a small baitfish pecking away at your bait before deciding to chow down. Most anglers are surprised at how soft a Sheepheads bite can be before reeling in a 5lbs fish.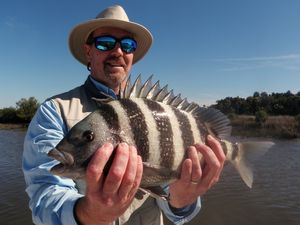 As great as the Sheepshead fishing has been the major headline for Nature Coast fishing off of Crystal River and Homosassa has to be the arrival of Huge Schools of Black Drum. Imagine this: 3 ft of Crystal Clear water, a small wake approaching, followed by a deep base sounding noise, a tail flips out of the water in the distance. As exciting as this already sounds it only gets better. As you get within range of the tailing small wake, the deep base sound becomes more prevalent. By the time you are in casting range you now realize that the deep base noise was not from one fish, but from a school of over 500 fish ranging from 20-60lbs, that have now just surrounded our boat.
As gnarly as this scenario sounds, this is what's going down on our local flats here along the Crystal River and Homosassa area. Sure the Redfish and Speckled Trout will get plenty of publicity over the next few weeks, but it's the exotic species like the Sheepshead, Spanish Mackerel, and Huge Black Drum that will be the species that will create the long lasting memories.