High 70's, light winds, post card perfect weather days. This has to be April right? NO!! Somehow, Someway some of the nicest fishing weather of 2011 is occurring right now as we speak in December here along the Nature Coast. December is historically known for its up's and down's in weather but with a majority of our temps hovering around 80 degrees since Thanksgiving, it seems as if Great Florida weather is the gift that will continue to keep on giving.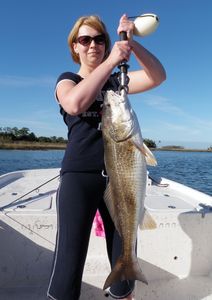 With an abundance of Sunshine and Warm Weather being the trend at the moment, the fishing has continued to remain on an epic level. Never in all my years of guiding have I ever witnessed such an abundance of Redfish, Speckled Trout, and Sheepshead in the month of December as I am seeing now. HUGE SCHOOLS OF FISH SEEM TO BE EVERYWHERE. Sheepshead on the rocks and oyster bars, Speckled Trout on our flats and Redfish are basically everywhere.
The Sheepshead that we are seeing now are in abundant levels that can only be compared to the levels that we normally experience in February. It's during the month of February that most of these tasty fish venture offshore to spawn. However, it's evident that in preparation for that long haul these fish seem to be feeding on anything and everything that can be put in their path. Shrimp, crabs, oysters, and even Berkley Gulps! Have caught these fish in recent weeks, and with the continued affect of the warm weather keeping these fish close to shore these fish should continue to be one of the most sought after fish along the Nature Coast.
As surprising as the great Sheepshead fishing is this time of year, it is expected that Speckled Trout fishing is as good as advertised. Unlike the Sheepshead that venture offshore when the weather cools down, Speckled Trout do the opposite and venture into the shallows before making their push into some of the warmer water areas like our rivers, power plants, and holes. Before these fish venture to their winter staging grounds these fish bulk up for the winter by eating anything and everything in their site. If you ever wanted to get on an Awesome Speckled Trout bite now is the time to give it a try. Topwater lures, Shrimp, and Sand Eels all have been productive and if our weather remains constant some of the largest Trout of 2011 will come during this month.
THE TOP BITE BY FAR!!!!!!
The topbite by far along the Nature Coast belongs to the Redfish. Not that this should surprise anyone, however with warm weather continuing to trend along the coast these fish are proving that no matter the month if the conditions are right they will continue to school. And school up they've done. The biggest schools of fish that I've seen all year are congregating right now and with my Top 4 Redfish days of the year all occurring with in the last 2 weeks NOW is obviously the time to jump on board before the cooler weather sets in. Artificial Lures, Live Baits, and Fly's are all working and it has been a blast to target them on Topwaters as well.
INCASE YOU ARE WONDERING:
1: 40FISH/ 18KEEPER/ 2 0VERSIZED DAY
2: 50 FISH/ 12KEEPER/ 2 OVERSIZED DAY
3: 50 FISH/ 9KEEPER/ 4 OVERSIZED DAY
4: 60 FISH/ WHO KNOWS!!!!
SO IF YOUR LOOKING FOR THAT END OF THE YEAR FISHING RUSH OR EVEN THAT END OF THE YEAR CHRISTMAS PRESENT, REEL FLORIDA FISHING CHARTERS CAN MOST DEFINETLY SATISFY THE OUTDOORSMAN/WOMAN ANY TIME OF THE YEAR!