Winter. What Winter? 70 and 80 degree temperatures have been the staple over the last few weeks and as unbelievable as the great weather has been the inshore fishing has been as epic as the weather. Normally this time of year the Nature Coast can become some what limited as to the featured species that are targeted and the areas that we fish. However, during this New Year myself and all of my anglers have been spoiled with opportunities that we normally do not encounter until the middle of the Spring.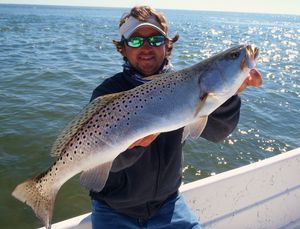 What do you like to catch? I for one like to catch what ever species are available during the particular time of year that I'm fishing. Normally for this time of year the most prevalent species are the Redfish, Speckled Trout, Sheepshead, Black Drum and Snapper. At the moment the large area where we target a majority of these species is inundated with all of the species listed above and many species that should be long gone by now. Gag Grouper, Pompano, Spanish Mackerel, Black Sea Bass, Tripletail, Flounder, and even Cobia should all have headed south by now in preparation for the Florida winter, but with water temperatures still hovering in the high 60's low 70's most of our fish that thrive in the Fall and Spring are thriving this winter.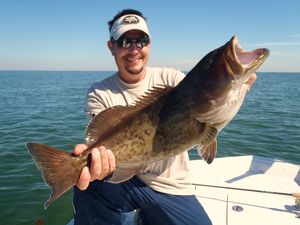 If you like a mixed bag of species the Nature Coast of Florida is offering anglers a bounty of opportunities. The crystal clear waters that we're fishing at the moment are teaming with life making for perfect sight fishing and fly fishing opportunities. During a recent fly fishing charter myself and Dave Ruddock (visiting from Cape Cod, MA) enjoyed fantastic weather and great fishing for a variety of species. Dave's goal while fishing Florida was to knock off as many different species on fly as he could with in 2 days of fishing. Over our 2 day stretch Dave hooked and landed over a dozen species including Redfish, Speckled Trout, Grouper, Spanish Mackerel, Bluefish, Pompano, Sheepshead, and Snapper. This catch would have been fantastic to accomplish in the Spring or Fall but that fact that he was able to pull this off in January shows how unseasonably Fantastic our weather and fishing has been.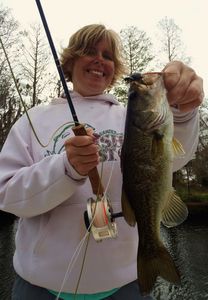 Like many I am hoping that the epic fishing of our winter season will be the precursor for many more epic months spread throughout the 2013 season. There are already plenty of signs that both the inshore and near shore fishing opportunities may feature a variety of unexpected catches. It wouldn't surprise me if our Tarpon season heats up a little earlier than normal and I would love to think that we may have Bonita swimming through our waters for a majority of the year. So with so much to look forward to in great weather and fantastic fishing, why not think about fishing the Crystal River and Homosassa areas of Florida during this WINTER? season.