Great News Folks! The full spring run of all species has finally made it to the Nature Coast. Whatever species you want to target, inshore or near shore, this might be as good as it gets. From Redfish and Snook in and around the mangroves to Speckled Trout, Spanish Mackerel, and even Cobia cruising along our grass flats, NOW! is the time to get out and enjoy some of the best fishing action found anywhere in Florida.
With so many species to choose from and so little time to fish for all of them I want to inform you of some of the best and most consistent action going on here in Crystal River and Homosassa. Enjoy!
NEARSHORE: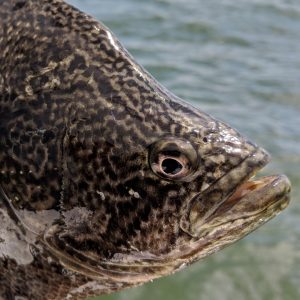 Over the coming weeks anglers fishing our near shore waters will find consistent action targeting Spanish Mackerel, Bluefish and Cobia. However, as anglers navigate their way out into the Gulf they may not realize it but they are probably driving by one of the most consistent and easiest species to catch along the Nature Coast. That's right! All of those channel markers and crab buoys that anglers have been avoiding for years are loaded with tasty Tripletail this time of year.
Now if you've never seen a Tripletail you probably would never know that you're running right past them. Tripletail are well known for their unusual behavior of floating just beneath the surface with one side exposed. This strategy is used to mimic floating debris, which is what most Tripletail prey search out for when they are looking for protection.
A Tripletails diet consists mainly of shrimp and small crabs thus all lures, flies and live baits should match the hatch. The trick when targeting Tripletail is to keep your bait or fly as high on the surface as possible. Free lined shrimp are deadly for these usually hungry fish and for those anglers that are using flies small brown Gurglers are perfect options. In those rare instances when a Tripletail refuses a Gurgler or any other surface fly, a small weightless shrimp fly (no larger than 2") could be another top choice.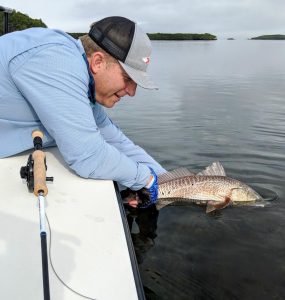 INSHORE:
I know! I know! I am about to toot the Redfish horn again, but all I can say is that over the last 3 weeks I have seen some of the best Redfish on fly Action that I have ever seen in my 17+ years of guiding. And if you don't believe me, just ask Chap Dinkins.
Chap and I have been fishing together for the last few years and to say that he has a fly fishing obsession would be an understatement. Earlier in the week both he and I had watched the weather like a hawk and as luck would have it he caught me on the right day as we decided to fish on a Saturday that featured no wind and a perfect tide. Now anyone that has fished with me over the last 5 years knows just how hard it is to convince me to fish on a weekend but the day was to perfect to pass up so Chap won on this day.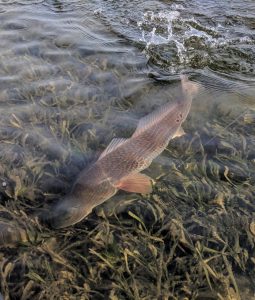 From the very moment we shoved off the dock, the day had a sweat smell of success to it. Our early morning run through Salt River consisted of driving through heavy fog but as we rounded every mangrove point heading south the fog began to give way to sparse glimmers of sunshine poking through the sky. Turn after turn brought upon more excitement and anticipation. After coming off of plane in a small mangrove laden lagoon it became very apparent where our day headed. Upon immediately taking the poling platform it didn't take more than 2 minutes before our first Redfish tail was spotted. 2 casts later with a Dupre spoon fly Chap was hooked up and landed our first over sized Redfish on the day.
It's 8:30 a.m. now and our day was already made. At that point in time we could've never imagined that the next 5 hours would consist of targeting tailing Redfish with little to no down time. First it was a pod of 3 tailing Redfish. Then a happy school of 10 Redfish. Then more fish and another school and another. By the time the tide bottomed out at noon Chap and I were surrounded by tailing Redfish at every angle.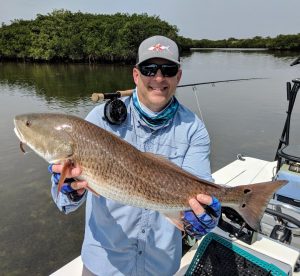 I told Chap, "In my 17 years of guiding and over 20+ years of fishing Crystal River and Homosassa I have never seen so many tailing/feeding Redfish at one time in my LIFE!"
To make this fish story even better we never saw another boat then entire day. For a Saturday that was so beautiful and perfect to have this bite all to ourselves reminded me of all the good days that we use to have before the secret got out about the great Nature Coast fishing.
Thank you Chap! You talked me into a memorable day that I didn't know if I would ever see again.
2019 TARPON SEASON KICKS OFF MAY 1!!!!
IF YOU'RE INTERSTED IN LANDING A FISH OF A LIFETIME GIVE US A CALL TODAY.