WHEW!!!!! That was a close one. First and foremost I want to thank everyone for all of the well wishes in regards to Hurricane Michael. Although this hurricane was way too close for comfort, for the most part our coast was largely spared from any direct impacts of the storm. Yes, some of our local roads flooded and a few trees were uprooted but looking at the footage coming out of Florida's Panhandle it breaks your heart to know that thousands of lives have been turned upside down. The silver lining behind all of this is that Mexico Beach, Panama City and the surrounding areas will rebuild and be better than ever. #FLORIDASTRONG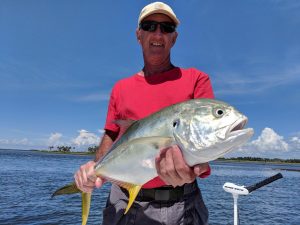 So as I am sure many anglers are wondering what type of impact will Hurricane Michael have on our local fishing? The constant churning of rough seas and all of the heavy downpours surely helped to oxygenate our local waters and hopefully dropped water tempratures a bit. Nature Coast Anglers have been desperately waiting for this drop in water temperature all summer long and hopefully this will bring in the massive schools of threadfin herring that have been holding steady just offshore. Once these bait schools show up on the shallow grass flats stretching from Crystal River to Homosassa it should be "GAME ON" as the Mackerel, Jacks, Bluefish, and Bonito wont be far behind.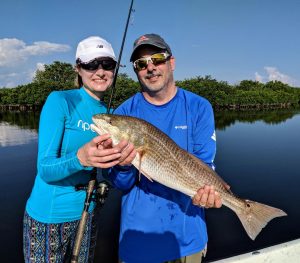 Over the next few weeks anglers fishing our local grass flats will find plenty of action fishing for Pelagics but these same flats will become inundated with large schools of hungry Speckled Trout as well. When fishing flats that hold a variety of species it pays to have multiple rigs ready for any and all species. This time of year I have found great success using soft plastic jigs and jerkbaits, and also twitchbaits like Mirrolure Mirodines but my favorite rig of choice right now is a Cajun Thunder popping cork rigged with a DOA Glow Shrimp. DOA baits are extremely durable and attractive to most inshore species. The beauty of the DOA shrimp is that the bait is large enough to attract the attention of a hefty trout but it also can be rigged in a way that prevents cutoffs from toothy fish such as Spanish Mackerel and Bluefish.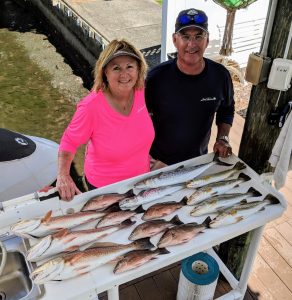 For those anglers that are stoked to hit the backcountry waters in search of those Bronze Bruisers, the Stellar Redfishing that our area is known for will continue to thrive with more and larger Redfish showing up in the backcountry waters on a daily basis. Most of our summer Redfish have been gorging themselves in the extreme backcountry waters due to the incredible summer high tides. As these major flood tides begin to subside, most Redfish will once again be drawn to many shallow shorelines and rock flats in hopes of hitching a ride with a school of mullet. This time of year the number one goal for targeting Redfish is to find the Mullet!!! If you find the mullet the Redfish will not be far behind.