July is finally here!! Does chasing schools of HUGE Tarpon, Black Drum, and Redfish excite you? How about running and gunning from a Mackerel feeding frenzy to a Bluefish feeding frenzy? Chances are with great action like this most anglers will get extremely hot and sweaty while battling all of these options. Good news though, is that Florida's greatest Scalloping Grounds are open for business here along the grass flats of the Crystal River and Homosassa.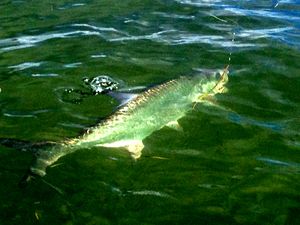 With outside temperatures swinging around the low 90's July is a perfect time of year to hit the water early or late and reap the benefits of great sunrise and sunset fishing for a variety of species.   Tarpon and Redfish will be the top targets this month and both of these species will feature more aggressive biting patterns especially during the early and late hours of the day. Considering that both of these species normally feed differently this is a great time of year to catch both of these species while soaking the same cut baits on the bottoms of many of the great structures found along the Crystal River and Homosassa rivers. Areas of sharp drop offs featuring swift currents are ideal areas to set up shop and soak cut mullet, ladyfish, and herring.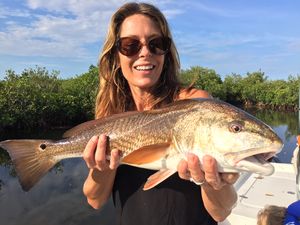 If these early and late patterns do not work with your schedule there are still tons of great mid day bites to pursue especially when working the tides around the full and new moons. This time of year with warming water temperatures fishing on days when the currents are running their hardest will surely benefit all anglers as the strong tidal movement helps to keep water temps consistent while also increasing Oxygen levels. Most migratory fish swim and feed best during these periods of hard moving water. Species such as Mackerel, Bonito, Bluefish and even Tripletail will be found free swimming and feeding on a variety of baits during this time. I for one keep at least two rods rigged for those just in case scenarios of a feeding frenzy or a free swimming Tripletail. One rod will always be rigged with a Crippled Herring Casting Spoon for the feeding frenzies and one rod will always be rigged with a 1/0 live bait hook so that we can present a live Shrimp to a tasty Tripletail on cue. Both of these rigs are still versatile enough to target other species but they are deadly when combined with the right feeding fish scenarios.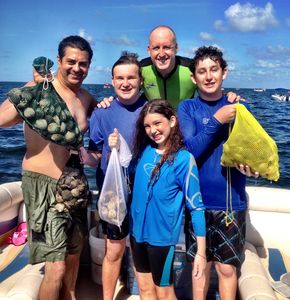 With all of this talk of warmer weather it's hard to forget that Florida's greatest Bay Scalloping grounds are featured here along the Nature Coast. 20 miles of pristine grass flats, 7 spring fed rivers, and miles of Mangrove Shorelines help to make the areas around the Crystal River and Homosassa the best Scalloping grounds in the state. In recent weeks most of the best scalloping action has been found in 4-6ft of water from Gomez Rocks in Crystal River to the St Martin's Keys in Homosassa. To put this in perspective this is about a 10 mile long by 5 mile wide area of pure Scalloping Heaven.
________________________________________________
The Perfect Day!!
Step one: Great night sleep at one of the areas local waterfront hotels accompanied by a free breakfast.
Step two: Great early morning fishing action for Redfish, Black Drum, and Shallow water Grouper.
Step three: Getting Hot? Hit the water for some great Scalloping Action!
Step four: Have freshly caught fish and scallop dinner prepared by one of a number of great local restaurants that specializes in local fare!
Step five: Cocktail hour and live music at Crackers Bar & Grill in Crystal River or The Shed in Homosassa.
LIFE IS GOOD!!!