WOW! What a crazy weather pattern the Nature Coast has experienced over the last 3 weeks. Wet and windy weather has been the norm and although there have been a few occasions where the weather has gotten the best of us, this type of weather pattern actually fuels great fishing and even better scalloping. Although cloudy conditions and a little bit of rain are not typical Chamber of Commerce weather day's here in Florida the fishing action usually explodes during periods of fluctuating barometric pressure, as schools of fish feed franticly waiting for the impending weather. Not to mention all of the overcast days make fishing and scalloping way more enjoyable when not having to beat the heat.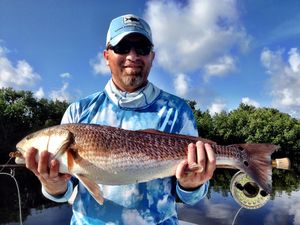 The abundance of weather has done wonders for the Scalloping Action here in Crystal River Homosassa. The recent weather pattern has kept the crowds closer to shore and the daily west winds have helped create higher than normal tides. It's these stronger tides that have pushed in a brand new crop of Scallops to our local waters. Scalloping has been at its best during these periods of stronger tides and targeting areas of grassy bottom in the 4-6ft range have provided the best results for Scallopers.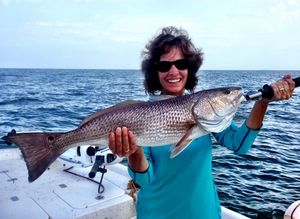 When talking about August fishing its hard not to talk about the incredible Redfish Action that this month is known for. The Crystal River and Homosassa areas are well known for their great year round Redfishing possibilities but if there ever was one month out of the year that an angler would want to be here now would be prime time. Areas of mangroves and crystal clear waters offer anglers picturesque views while targeting tailing Redfish in inches of water. Anglers searching for fly fishing opportunities are flocking to these shallow areas this time of year due to the incredible sight fishing action that is taking place. Gurglers, Redfish Sliders, and EP baitfish patterns are top flies when working the shallows.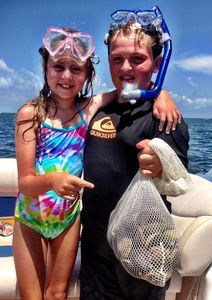 For those anglers that are looking for a once in a Life Time Redfish bite now is the time to think about the Nature Coast. Many anglers/guides can boast about Epic days when anglers land 30-50 fish in a morning. As great as that sounds there will be a handful of days over the next 3 months where anglers will be able to brag about 75-100 Redfish days. As crazy as this sounds it does happen and as if this wasn't good enough keep in mind that most of these fish are upper slot to oversized fish. I recently had that opportunity to guide Dennis and Connie Bowman of Toledo, Ohio on one of these remarkable days. This was their first ever trip inshore fishing the Nature Coast and by 1:00 p.m. we had landed well over 100 Redfish with over 40 fish being slot fish, 4 Reds pushing 30"+, and we even added 3 tagged Redfish to our day. This was by far an incredible day that will never be forgotten and we owed a lot of this great action to impending weather, which in my opinion triggered this great action.