Brrrrrr! Where did all of that beautiful warm tropical weather go? It seems like just the other day that myself and all of my guide buddies were just whining about how we all couldn't wait for winter to finally get here so that we could enjoy a reprieve from all of that summer heat. Boy am I sorry that I ever mentioned the words cooler weather! I am sure there are plenty of New Englander's and Cheesehead's that would love to brag about our 50°- 60° weather right now but I for one am already looking forward to sweating while I am fishing again.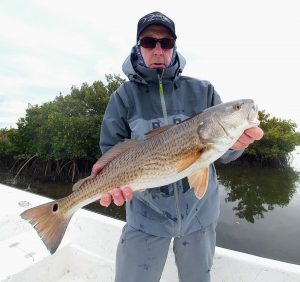 Now before I start sounding like a complete ungrateful Floridian let me just start out by saying warmer weather is on the horizon and as far as I am concerned not a moment too soon. Until that warmer weather finally arrives on our door step most local anglers will find success targeting Speckled Trout, Redfish, Mangrove Snapper, and Snook in our local 72° spring fed rivers using a wide variety of live baits and artificial lures. During some of our most recent trips around the Nature Coast I have found that the fish residing in the Homosassa River's Blue Water area have preferred Mirrolure Mirrodines and Live Shrimp while the fish in and around Crystal River's King Spring have preferred 1/8- 1/16 ounce jigs using Zman Paddletails. Slow sinking, bulkier baits especially when you're talking about jigs are a must to get through the Ladyfish and down to the more desirable species. Once these lures get close to or on the bottom a slow retrieve/crawl is a must to keep them below the thousands of Ladyfish that have swarmed every Spring in the area.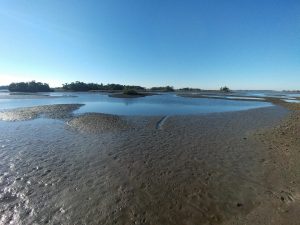 As great as the every cast bites of our Springs sound (80% Ladyfish bites) there are still way better fishing options to target when the weather works out in our favor. Sheepshead spawning season is upon us and the many rocks, wrecks, and ledges that encompass our foul area are loaded with these tasty crustacean eaters. When targeting Sheepshead this month anglers will find that the most successful strategy is locating structures with the warmest water temperatures. Channel markers close to the mouth of the river, ledges near the Duke Energy Power Plant, and shallow rock piles in our foul area are perfect areas to target.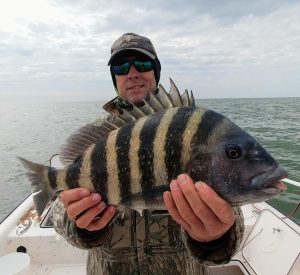 To maximize angler success targeting Sheepshead during the outgoing portions of our local tides is best. Sheepshead often feed better during this tidal phase as all of that warm Spring water is pumped out into the Gulf. It's the warm water outflow that not only jump starts their feeding cycle but also provides these fish with most of their prey. Chumming with shrimp, crabs, and barnacles is a must to ensure some of the largest Sheepshead of the season finds your strike zone. The rig of choice when targeting Sheepshead is a simple knocker rig consisting of a 1/2-1 ounce egg sinker and a 1/0 live bait hook.
Professional Tip: When Sheepshead fishing I find that pinching the barbs on all of my hooks leads to more and better hookups. The roof and bottom jaw of a Sheepshead is extremely thick and tough. A pinched barb hooked often will bury its self deeper in the jaw leading to better hookups. The trick when fishing any barbless rig is to maintain pressure at all times.