The Bluefish Blitz is going down just off the coast of Crystal River and Homosassa this month! With the early arrival of Florida's first cold front ushering in lower morning temperatures in recent weeks, many fall like changes have begun taking shape along our local waters. The anticipated arrival of large schools of scaled sardines and glass minnows have finally hit the inshore and near shore waters off our coast and acres and acres of these baitfish schools can be found shaking on the surface or anywhere bird activity is found. As the old saying goes "if you find the birds then you have found the fish."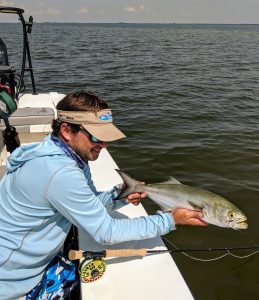 Bluefish unfortunately are known as one of Florida's most overlooked species, but if you ask anyone from New England what they think of this hard fighting fish they would tell you "that Bluefish are one mean fish with a very bad attitude." How could you not like a fish that feeds aggressively, pulls extremely hard and will readily take anything thrown in front of them? It's their nondiscriminatory tendencies that make Bluefish one of the more fun fish to target on both spin and fly.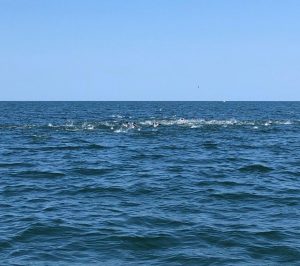 The majority of a Bluefish's' diet is made up of finfish and accordingly they're attracted to lots of flash. When choosing artificial lures or flies, anything containing a metallic flash often works best. Silver wobbling spoons are the go-to lure of choice on my boat and flies such as surf candy, clouser minnows and even white gurglers are a blast to use.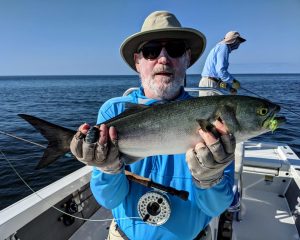 Regularly anglers will find the need to use wire leader to keep from getting bitten off. There are times however when blues can often spot wire (especially in clear water), and will actually bite it off at the swivel. When this is happening, try rigging with tie able wire instead of using a swivel. AFW and RIO make a bronze colored tie able wire that is perfect for bluefish and often helps to eliminate cut offs.
Checkout some of the awesome Bluefish Action found on my YouTube channel:
________________________________________________________________
Recently, I asked a number of customers for a great Bluefish recipe as I've always chosen to smoke my bluefish before turning it into fish dip. A recipe that was shared with claims to be "The World's Best Bluefish Recipe" and I for one can't wait to give it a shot.
Baked Bluefish with Potatoes, (Serves 6)
"The World's Best Bluefish Recipe"
2 bluefish fillets (skin on, about 1 lb. each)
1 pound boiling potatoes
2/3 cup olive oil
1 tablespoon chopped garlic
1/2 cup chopped parsley
Salt and pepper
Preheat the oven to 450 degrees. Peel and slice the potatoes thinly (about ½ inch thick). Mix the potatoes with half the garlic, half the parsley, half the olive oil and a liberal amount of salt and pepper in a 16-inch casserole dish, preferably enameled cast iron. Arrange the potatoes evenly over the bottom and sides of the dish, place it