We have reached that time of year along the Nature Coast when all things great in the world of fishing collide on the grandest stage Florida has to offer. The weather has reached its perfect state, water temperatures have stabilized, the snow birds/migratory birds have all headed north and the arrival of some of the most sought after pelagic species is in full swing. This is what we have waited for all year. This is what makes the Nature Coast so spectacular!!!!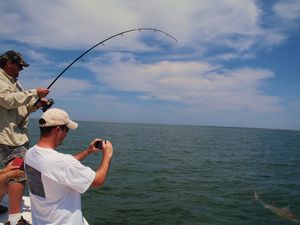 The Super Bowl of Fishing Opportunities has taken aim at the pristine flats off Crystal River and Homosassa and the stadium known as the Nature Coast will be in the spotlight for the next 2 months. Thrill seekers and World Record Hunters will begin to make their annual pilgrimage to our local flats to take a stab at some great light tackle inshore fishing action. Although the excellent Redfish, Speckled Trout, Black Drum, Spanish Mackerel, and Tripletail action will get the most publicity over the next few months, don't discount the arrival of the Nature Coast's top pelagics, Cobia, Sharks, and Tarpon.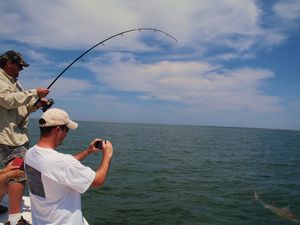 In recent weeks my anglers and I have been spoiled with a variety of unexpected fishing opportunities. During a recent trip where Spanish Mackerel were the main targets, my anglers experienced great action all day long until our chum slick was inundated with hungry sharks. To my amazement we spotted over 6 large sharks working with in our chum line at times picking off hooked Spanish Mackerel that were coming into the boat. After witnessing this spectacle we made it a point on our next trip to target Sharks around the same area. After catching a few Spanish Mackerel during the following trip we rigged a few Mackerel strips for bait, which took approximately 5 minutes to be inhaled by a large shark. After a great battle on light tackle we had a 6ft Bull Shark boatside ready for a few pics. On the day we landed more Spanish Mackerel than we could count and 4 Sharks all over 6 ft including 2 Spinner Sharks, 1 Bull Shark and A Huge Black Tip Shark. TALK ABOUT FUN!!!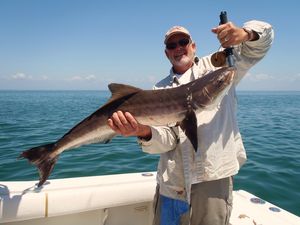 As incredible as the Spanish Mackerel and Shark Fishing has been, the real surprise has been the large schools of Cobia that have been roaming our flats and staking claim to some of the areas local structures. When targeting Cobia my favorite structures to target are Channel Markers, Crab Buoys, and Rocky Structures adjacent to sandy bottom. On a recent trip with Jay and Nancy Allen of Leesburg we targeted 2 large sandy areas adjacent to sponge beds and coral flats and were rewarded with a 10 fish day featuring 4 Cobia that would have fell into the 33" slot with 2 of the fish exceeding 40" (30lbs).   Sandy areas make a great habitat for cruising Rays (which normally have Cobia following them this time of year). It may be hard to believe but the baits of choice for targeting these fish are small catfish with their fins clipped.
*** REMEMBER MAY IS TARPON TIME ALONG THE NATURE COAST!!! Every year anglers come from all over the globe to target the migrating Tarpon that will be cruising along our flats this time of year. With a number of World Records landed off of our coast and 3 straight years of huge numbers of Tarpon migrating through now may be the time to blow the dust off of those fly rods and plan a trip to the Nature Coast. Fish are already being spotted, so stay tuned to the website for what could be another banner year. ***