Here we go!!! For those anglers looking for that shot at a fish of a life time on spin or fly now is the time to hit the waters of the Nature Coast for some of the best BIG fish action of the year. Every May Nature Coast anglers keep a close watch on local water temperatures waiting to see that magical 78-degree mark. 78-degree water temperatures have historically been the catalyst to jump start major movements of baitfish onto our local flats and near shore rocks, wrecks, and reefs. For those anglers planning on hitting the waters off of the Crystal River and Homosassa in the coming weeks, keep your eyes peeled for acre sized schools of whitebait, ballyhoo, and needlefish. It's within these large schools of baitfish where many Sharks, Cobia, and Tarpon will be landed in the coming weeks.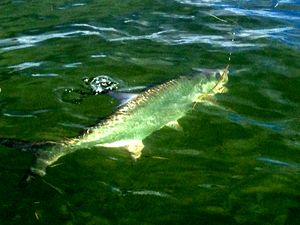 The beauty of fishing the many structures of the Nature Coast this time of year is that anglers actually have the opportunity to target all three of our largest pelagic species all with in the same day on the same structure. Structures such as wrecks, channel markers, and anchored shrimp boats are great places to target Cobia, Sharks, and Tarpon considering they all hold tons of bait and make great ambush areas to target prey. Of the three varying structures by far boat wrecks are the most optimal for fishing success. While some wrecks are exposed during certain tides the best fishing wrecks in the area can be found hidden in water depths between 15-25 feet. The common denominator when fishing a wreck is being ready for whatever fish may be lurking. Often when fishing wrecks once an anchor is deployed a variety of fish will rise to the surface to scope out the situation. Spadefish, Spanish Mackerel, Jacks, and often Cobia will usually show themselves with in minutes of arrival. Deploying a variety of baits and rigs can be beneficial for targeting many of the larger fish that call these wrecks home. Free lining Pinfish, Pigfish, or White bait will surely get the attention of many hungry Pelagics especially Cobia.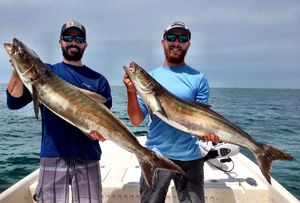 On a recent trip with Luke and Cory of Gainesville, FL we planned on targeting Cobia and Sharks on a wreck in 15ft of water. On this day the water was crystal clear making the wreck extremely visible from a distance. Our game plan was fairly simple on this day as we planned on anchoring up current and chumming down current to the wreck below. Upon deploying our frozen chum and chunking a few threadfin herring into the slick we were immediately inundated with Cobia of all shapes and sizes. Normally, chumming takes a little bit of time and patience but on this day it took only 15 minutes to have my crew doubled up on Big Cobia before I placed a pinfish in the water to set up the Tripleheader. Although my fish was by far the smallest fish it was still a respectable 33"+ slot fish that I promptly released to ensure the 35-40lb double that my crew was hooked into had a fighting chance. After boating the three Cobia and releasing the other smaller fish we couldn't help but hook up with two more that were using my boat as shade. It took a total of 15 minutes of chumming to yielded 5 keeper sized Cobia ranging from 20-40lbs. Life was Good on this day!!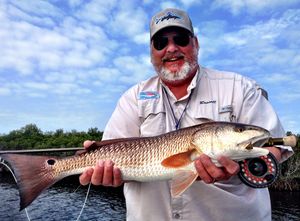 As much fun as it has been targeting and chumming for Pelagic species roaming around our local waters this month, the most consistent action has still come in our backcountry waters where some of the years largest Redfish and Black Drum are beginning to enjoy the fruits of the spring season. Targeting oyster bars from Yankeetown to Homosassa has been a sure bet for anglers interested in trying their luck with a variety of lures, live baits, and fly's. With water clarity beginning to return to its gin clear form backcountry anglers are going to find that sight fishing will continue to be the most optimal way to target these two drum species. Fishing the lowest of low tides this month will offer skinny water anglers and wade fishermen the opportunity to actively target both Redfish and Black Drum during their tailing feeding phases. As the old saying goes "A tailing fish is a feeding fish." Delicate presentations are key when targeting unsuspecting feeding fish in the extreme shallows making flies and free lined medium sized shrimp ideal.
TARPON SEASON 2016 IS UPON US. STAY TUNED FOR PHOTOS AND VIDEOS FROM THIS YEARS SEASON!
With so much great weather ahead of us and plenty of fish to choose from think about the Nature Coast of Florida for your next inshore fishing adventure.