Happy New Year!! And boy what a new year it has been. With the start of our new year featuring record high 80-degree temperatures many of our fishing days in recent weeks felt as if we were fishing in early October instead of January. And as most visiting anglers have found out the fishing action has been just has hot as the weather.
The early warming trend of the New Year has since gave way to the chills of January which attributes to the great Florida Fishing that the Nature Coast is known for this time of year. 72-degree water is running up and down our river systems and all of our local game fish know exactly where that warm water is located. That being said most of the best fishing action along the Nature Coast is located in close proximity to our river mouths. Huge Schools of Redfish, Speckled Trout, Sheepshead, Jack Crevalle, and Snook have inundated our rivers and river mouths in recent weeks. Targeting all of these species in the same day requires versatile lures, flies and baits and I for one have found that Mirrolure Little Jons, Mirrodines, and Berkley Gulp! Shrimp have been great all round baits for targeting all of these species in the same areas.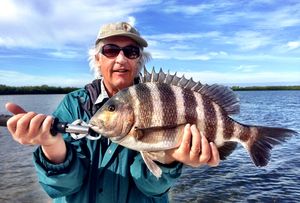 Targeting large areas of structure where strong currents are present will yield the best results. Oyster bar cuts, rocky points in rivers, and open water shorelines are great places to target the plethora of species that are available at the moment. The key to fishing this time of year is to find the areas of warmer water. Warmer water leads to more active fish and active fish feed actively. Fish that tend to stage in areas of current (i.e. Snook, Reds, and Trout) are fish that feed on a regular basis. Fish that are found in areas with out current are more apt to feed during opportune times.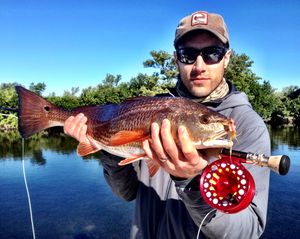 In recent weeks the warmer weather that we have been experiencing along the Nature Coast has led to some extremely uncharicteristic catches including large Sharks, Spanish Mackerel, Pompano, Permit, Tripletail and even Gag Grouper. All of these species are normally targeted and landed during the warmer months of the season. With so many different species still roaming our local flats and opportunities to target a variety of species our anglers have had a ball targeting the most challenging of species for this time of year. Big Sharks in Shallow water? Tripletail along the Coast? Gag Grouper staging along our shallow rocks, wrecks and reefs? This great weather has been the catalyst for great fishing!
As great as this weather and fishing has been the best fishing opportunities of the season have went by the wayside due to all of the possible late season options. Typically this time of year is known for its FANTASTIC Backcountry Redfish Sight Fishing Action and Shallow Water Sheepshead Fishing. Both of these species are extremely fun to target on light tackle and fly and both of these fish will be readily accessible over the coming months.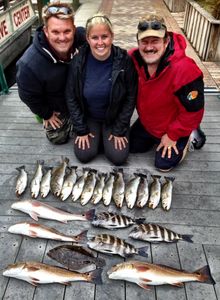 So if it's food, fun, or the experience that you're looking for Reel Florida Fishing Charters has plenty of options for you. Light tackle sight fishing action is our game plan, but putting anglers on a once in a lifetime experience makes our name. Florida Fishing Adventures is here to showcase the Best of the Nature Coast and we will be looking forward to guiding you during the 2016 season!!