WOW!!! What a month April has been and all signs are pointing to an unbelievable May and June. With the abundance of warm weather, clear sunny days and lack of rain Mother Nature has provided myself and many lucky anglers here along the Nature Coast with some true banner fishing days. Tailing Reds, Hefty Speckled Trout, Toothy Sharks and Leaping Large Mouth Bass are what's biting right now and chances to catch all 4 within the same day is a true possibility when fishing the waters of the Crystal River and Homosassa.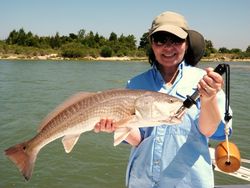 Over the last few weeks I've had a few requests to target some of the hefty LargeMouth Bass that call the Crystal River home. With clear waters and an abundance of bait, Largemouth Bass fishing the Crystal River is in Prime Time with many of the fish averaging in the 3-4lb range. Considering that Bass are normally out numbered 3-1 to salt water species in the river, it has been great to see a major comeback by North America's favorite fish in the Crystal River. When targeting Bass in the Crystal River, Culprit and Berkley Gulp worms are the top artificials we use, but a live farm raised shiner is as deadly as it gets when targeting Bass. When using both the artificial worms and shiners we generally are targeting large crystal clear areas where these Bass can be sight fished. Although certain conditions are needed when targeting Bass in our spring fed rivers, during the spring and summer months Bass fishing can be an added bonus for anglers before heading out to challenge some of saltwaters toughest game fish.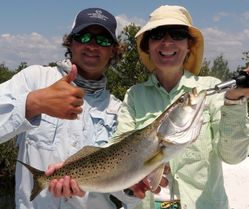 On the Inshore scene, the Redfish and Speckled Trout fishing has been as good as advertised. Like the Bass fishing most of our Speckled Trout and Redfishing is being done by sight casting to fish in extremely clear waters. Gold and Silver Spoons are getting plenty of looks when using artificial lures, but the topwater action that is going on right now is second to none. Small Zara Spook's and Rapala SkitterWalks are the topwaters of choice. One key point to remember when using the topwaters is to try and remember not to set the hook on the first initial explosion. It's not uncommon for a Redfish to chase a topwater lure only to blow your lure out of the water 5ft in the air on the initial strike. If you can remember to pause your bait for a few seconds once it reenters the water, and then begin a retrieve you should be able to trigger a secondary strike from a hungry Redfish or Speckled Trout.
NOW FOR THE HOTTEST ACTION GOING ALONG THE NATURE COAST!!!!
For those of you that frown upon Shark Fishing you really do not know what you are missing. Over the last few weeks I have witness some of the most unbelievable events in fishing that any angler can witness. Have you ever had the chance to have your 5lb Spanish Mackerel taken off your hook in whole by a 7ft Bull Shark while boat side? Have you ever had the opportunity to watch the Awesome show a 100lb Spinner Shark puts together with its unbelievable leaps out of the water? This is just a slice of the action that shark fishing has provided myself and some of my lucky anglers. And with all of this action occurring on light tackle the skies the limit as to where an angler can go with this fishing opportunity.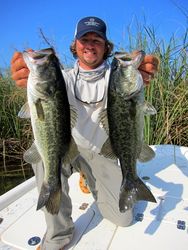 So how does landing a 5lb Bass, 8lb Redfish, 5lb Speckled Trout, and 100lb Shark in the same day sound for your next fishing adventure? This sounds like one Heck of a Day and one Hell of a SLAM to me!  So with the Freshwater, Inshore and Nearshore fisheries heating up now maybe the time to book your next Reel Florida Fishing Charter.