Well folks it's that time of year again. Options are aplenty here along the Nature Coast with the anticipation of our annual Redfish migration right around the corner, along with the featured arrival of MASSIVE schools of threadfin herring accompanied by acres of hungry Bonito, Spanish Mackerel, Bluefish, and Jack Crevalle. And let's not forget that Crystal River and Homosassa are still considered the epicenter of the best Scalloping in the state of Florida. With so many options and so little time this is a great time of year to be on the water here along the Nature Coast.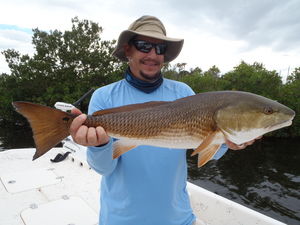 Luckily for Nature Coast visitors the weather has been a huge key to the success of our summer fishing and scalloping season. With afternoon rain showers cooling down our local waters most of the great fishing opportunities for Redfish and Giant Black Drum are occurring during the early morning hours or during the later part of the afternoon after many of the showers have passed. The added oxygen in the water as rain droplets pelt the surface layer on our flats helps to trigger intense feeding frenzies this time of year. With water temperatures reaching the upper 80's many larger fish become a little lethargic with increasing water temperatures. As water temps fall early in the morning or after storms many fish become more active and actually leave their summer haunts in search of fertile foraging grounds.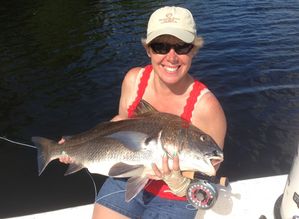 The key when targeting Redfish and Giant Black Drum this time of year is to really home in on areas containing large schools of mullet. Although mullet are filter feeders by trade the areas that they inhabit are loaded with structure which attracts prey for most feeding fish. Mullet love rocky shorelines, subtle drop offs and areas with current, all of these features offer a variety of perks but the common factor of all three is that throughout the day their water temperatures will drop a degree or two compared to the surrounding waters on a particular flat.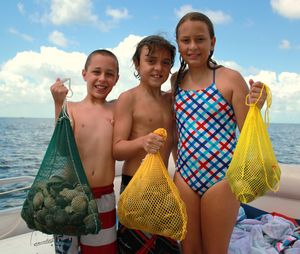 As great as the Redfish and Giant Black Drum Action has been along the Nature Coast the real featured story is the Fantastic Scalloping Action that is still occurring around Crystal River and Homosassa. We are already into our second month of the season and as good as July scalloping was it appears that this month is going to be just as good if not better. With slightly stronger tides bring in a plethora of scallops during each tidal change popular scalloping areas will keep up with their popularity as every tide replenishes already visited areas. The only difference now is that some of the most fertile grounds for scalloping are grounds containing tall and thin eel and turtle grasses. These areas are often over looked during the early part of the season but now that some of the most obvious spots have been picked these hidden gems are loaded with an abundance of larger scallops. So as the good times roll here along the Nature Coast great catches of Scallops, Redfish, Black Drum and a variety exotics will keep on showing up and I for one will be looking forward to it!!!