From sight fishing for Redfish and Black Drum to snorkeling for Bay Scallops the shallow waters of Crystal River and Homosassa is where the action can be found this month. The best Scalloping Action found anywhere in Florida opened on July 1st this year and with the passing of the first month many Scallopers are still finding full buckets of these tasty bivalves from the limestone flats surrounding Gomez Rocks in Crystal River to the eel grass beds off the St Martins Keys in Homosassa. With our scalloping flats covering close to 15 square miles there are still plenty of hidden gems left for Nature Coast Scallopers to find.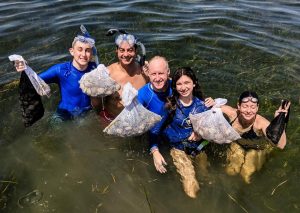 The key when Scalloping this month is to find areas of bottom that may have been overlooked by other early season Scallopers. A strategy that I have found successful in recent weeks is working areas of spotty grass west of the scalloping pack. Working just outside of the pack will put Scallopers in between 6-8ft of water during high tide but scalloping these same areas at low tide is very manageable with water depths averaging around 4 feet.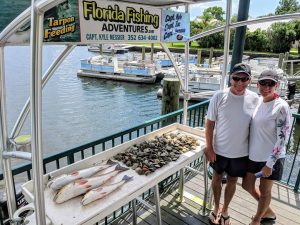 Scalloping Tip: Make sure you are in the water during slack tide. This 30-45 minute time frame may provide the best scalloping of your trip. When tides go slack the current subsides allowing sea grasses to position themselves vertically. This upright position will reveal all of the tasty scallops that were hiding within the web of grasses during the tidal movement.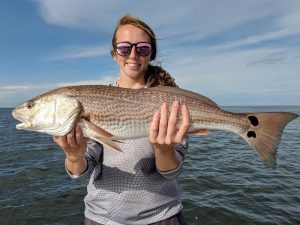 With so many options both in and out of the water myself and the entire crew of Florida Fishing Adventures are offering a variety of trips this summer that surely would excite any outdoor enthusiast. Our most popular trip this time of year is by far our ½ day fishing ½ day scalloping trip. During these trips our mornings usually start off targeting Redfish in the backcountry mangroves before running to some nearby oyster reefs in search of HUGE Black Drum. Now these aren't your ordinary 14-20" Black Drum that we usually see through out the Spring and Fall. The fish that we are targeting this time of year range from 20-60lbs are a blast on light tackle. The scary part of this summer fishery is that these fish are all schooling sized fish this time of year, meaning you will not usually see a single fish below 20lbs. Catching these fish is as easy as casting a quartered blue crabs up current from these feeding fish and holding on. Once these fish hone in on the smell of a blue crab its game over and FISH ON!!!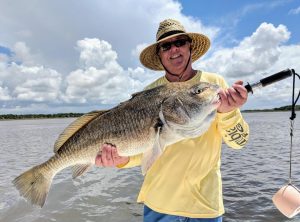 So if your looking for an Awesome way to beat the heat and put a fresh seafood dinner on the table plan on making a trip to the Nature Coast this summer. There are still plenty of fish and scallops waiting for your next adventure.