The catching on Florida's Nature Coast this month has been almost as hot as our August weather itself. With most of our days featuring 90° temperatures it pays to hit the water early this month. Anglers fishing early and often these days have found some epic Redfish action from the St. Martins Keys in Homosassa all the way to the Spoil Banks of Crystal River. With late afternoon and evening rainstorms providing a cool reprieve from the summer heat anglers will find that rain cooled morning water temperatures invigorate Redfish into feeding. Targeting Redfish this month can be a little challenging due to the fact that keeping bait in the water is nearly impossible because of the abundance Pinfish. A Pinfish can devour a live shrimp in 15 seconds or less so to combat this onslaught, anglers will find that large cut baits such as Mullet, Threadfin Herring, Lizardfish, and Ladyfish will be more productive. Artificial lures will also produce great catches of Redfish this month especially hard lures such as gold spoons, twitch baits, and a variety of topwater lures.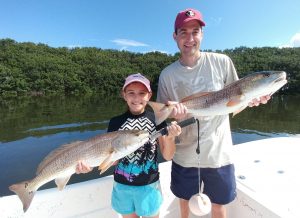 Speaking of topwater lures, for those anglers that live for a great topwater bite NOW! is the time to hit the waters of the Nature Coast for some of the best Snook fishing found anywhere in the state. Snook are widely considered one of the most sought after fish species in Florida this month primarily because of their willingness to take a bait. Whitebait, Pinfish, and finger Mullet make up most of the Snook's diet here locally which is why "walk the dog" styles of Topwater lures can be so deadly. Lures such as Rapala Skitterwalks, Mirrolure TopDogs, and Heddon Zara Spooks mimic injured baitfish perfectly and send hungry Snook into a frenzy when retrieved. The key when fishing this style of lure is to NOT work it with one static retrieve. An injured baitfish doesn't swim or struggle in only one way. Retrieving the lure in an erratic manor with varying pauses will surely entice a hungry Snook to strike.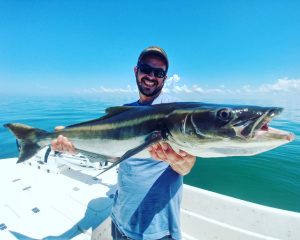 As great as the Redfish and Snook Action has been this month there are still plenty of exotics to keep our days interesting. Running and gunning channel markers and crab buoys has yielded some great catches of Tripletail and Cobia in recent weeks. When afternoon temperatures become unbearable running next to channel markers and crab buoys is a great way to find fish that use these shady structures as ambush points to attack prey. They key when targeting fish on these visible structures is to stay far enough away that you do not run the fish over. The beauty of targeting fish on channel markers and crab buoys is that these structures normally see a ton of boat traffic so running past fish is nothing out of the norm for them. Once a fish is spotted keep running past the fish before doubling back around and turning off the engine. Although Shrimp are not as productive on flats right now, most Cobia and Tripletail cannot refuse a free lined Live Jumbo Shrimp.
SCALLOP REPORT
Nature Coast Scallopers are still finding a good amount of Scallops just off of the St. Martins Keys in Homosassa and off of Gomez Rocks in Crystal River. If and when the Nature Coast experiences some tropical weather scallopers should be prepared to hit the waters soon after the weather passes. Tropical weather typically features wind and stronger tides which helps churn up the water and moves sea grasses around. A good storm and strong tide can be a great catalyst to move new scallops onto our local scalloping grounds.