Its been nearly 19 years since I started my guiding career and still to this day my two favorite parts of the "job" are enjoying a beautiful Florida sunrise and taking a child fishing. The reasoning behind the love of sunrises is spiritually obvious but watching a young half awake child walking down a dock, running only on a half eaten donut and a Capri Sun at an hour they usually never see brings a smile to my face just thinking about it. Can you imagine what must be going through a 6 year olds mind as they walk the plank towards the unknown at 7:00 a.m.? Excitement, nervousness, curiosity, all of the above!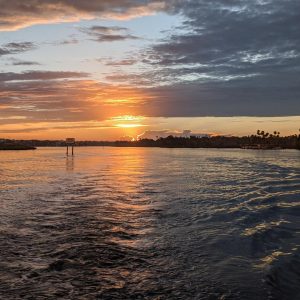 Over my years of guiding I have found that immediately engaging with young anglers upon them hoping on the boat is critical to building up their excitement and this usually helps ease any fears they may have. Once they're settled in and learn the boat is not going to sink right away the constant questions usually begin: "Are we going to catch a shark today?" is usually the first question followed by "Can I drive the boat?" When you tell a child that they can drive a boat for the first time it's like telling them they can eat chocolate for breakfast. The smile never leaves their face. For most children the simple act of idling the boat across the bay as we leave the dock is the highlight of their entire day and as most parents know the smallest, most meaningless events tend to be the most remembered.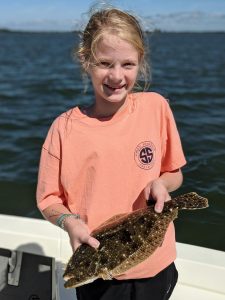 Speaking of meaningless events, the mundane task of pulling a pinfish trap or throwing a cast net can be a life changing moment for some kids. No Matter how many fish you catch in a day kids will still ask, "can we go pull the pinfish trap again?" You gotta love it.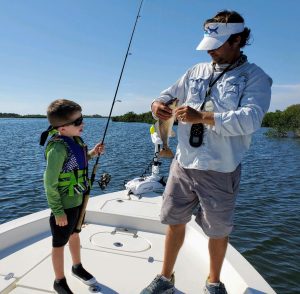 So lets recap. 7:00 a.m. meet and greet. 7:10 kids idle the boat across the bay. 7:30 watch the sunrise. 7:50 kids are helping to pull traps or sort fish out of a cast net. Within the first hour most children will think this is the greatest day of their lives. So many new activities and all of which they are involved in. That's the key to taking a child fishing, let them be active, let them be involved, and most of all let them feel like they are part of the team.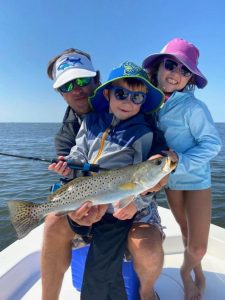 When we finally get around to actually fishing I find it extremely important to fish for species that are readily available or fish in areas where multiple species can be found. Speckled Trout are a fantastic targetable species that can be found year round here along the Nature Coast. The fun aspect of targeting these species is that you will usually catch a variety of other species in between Speckled Trout Bites. Ladyfish, Jacks, Flounder, small Grouper, Seabass, and all kids favorites Blowfish inhabit the same grass flats where we find Speckled Trout. Simply floating a shrimp below a cigar style bobber will lead to numerous hook ups and lets be honest, "Who doesn't love watching a bobber disappear below the surface.
*IF YOU TAKE A KID FISHING YOU'LL HAVE A FISHING PARTNER FOR LIFE*
GREAT LINK REGARDING FISHING WITH CHILDREN IN FLORIDA:
https://myfwc.com/education/outdoor-skills/kid-fishing/
Capt. Kyle Messier
(352) 634-4002
WWW.CRYSTALRIVER-FLYFISHING.COM