WOW! What a month it has been for the lady anglers of Reel Florida Fishing Charters. From great catches of Redfish and Black Drum to some seriously long battles with Bull Sharks on light tackle. Hats off to all of the women who've endured the heat, humidity, and in some instance tropical down pours to show their significant others that they can hang. RESPECT!!!!
REDFISH ACTION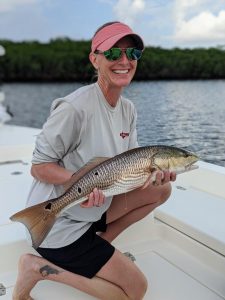 What a stellar September it has been for the Redfishery here in Crystal River and Homosassa. The Nature Coast has long been known as one of the hidden gems of Florida for anglers searching for reliable Redfish action but the feeding frenzy mentality that these bronze bruisers have exhibited in recent weeks is nothing short of AMAZING!! Pinfish, Shrimp, Crabs, Artificial lures, the kitchen sink, it just doesn't seem to matter these days. If you see a Redfish and cast to it, they eat. It has never been this easy.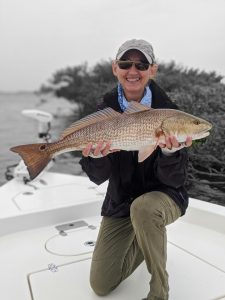 Now I imagine most of this incredible action is due in part to the tropical systems that we've had rolling through the Gulf in recent weeks but if these fishing patterns remain consistent into the end of the month I can't wait to see what happens when the fall weather patterns finally arrive. Speaking of fall, as of September 19th local water temperatures here in Crystal River were down to 78°. This major drop was the direct result of close to a foot of rain dumping on the area since the start of the month but anyone that knows Nature Coast fishing knows that 78° is the magical water temperature that puts fish on notice that winter is not too far away.
REDFISH OUTLOOK
Only time will tell if this same incredible pattern will persist but the one constant is that October historically is one of the best months of the year to target Redfish. As these large schools start breaking off into many smaller schools anglers will begin to notice that these smaller schools will hold populations of Mullet, Speckled Trout, Sheepshead, and Snook. I always find it amazing watching a Redfish and Sheepshead do battle over a well placed shrimp so come prepared with plenty.
WHO DOESN'T LIKE TO PULL ON SOMETHING BIG
It only takes watching the movie "JAWS" once to get all amped up over tugging on a massive animal that has the capabilities of pulling every yard of line off a reel in a mater of seconds. Targeting Big Sharks in shallow water using light tackle is one of the most exciting bites going here along the Nature Coast. Bonnethead and Black Tip Sharks are usually the most common of the inshore species this time of year but lately we have seen some incredible numbers of Bull Sharks showing up on the flats.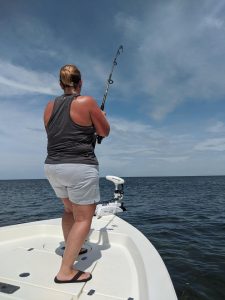 The large congregations of Threadfins, Mullet, and Redfish found just offshore make finding food for hungry Sharks fairly easy. Once these schools are located anglers will find that freelining a bloody hunk of Ladyfish, Jack, or Bluefish around the schools will ensure a quick hook up.
*It's important to note that all Sharks can only be targeted using Circle Hooks these days and ALL sharks should be released promptly once boatside.
Capt. Kyle Messier
(352) 634-4002
WWW.CRYSTALRIVER-FLYFISHING.COM