After focusing on the Nature Coasts "World Class" Tarpon fishing since May many anglers are starting to ponder their next moves as the migratory season basically wraps up at the end of the July. So what's an angler to do now that Tarpon season 2019 is officially in the books?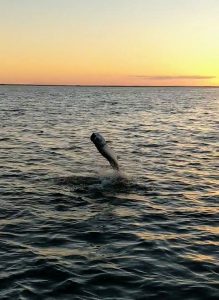 First and foremost there will still be a handful of opportunities to put a Tarpon in the air this summer as a handful of migratory Tarpon will still be swimming off our coast. Plus, the dog days of summer ranging from July-September are usually Prime months for targeting our resident fish that live their entire lives in and around our spring fed rivers. The trick to successfully targeting these extremely savvy fish is to fish for them during the periods of the day when these fish are showing themselves (rolling) and actively feeding on the surface. Typically the two-hour time frames around dawn and dusk are best and anglers will really have to dial these fish in (either quickly or over time) to be successful as their feeding time frame during the summer is extremely short.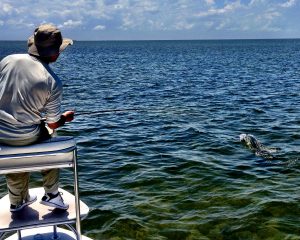 Over the years of targeting these fish on the Homosassa, Withlacoochee, and Crystal Rivers I have found that a limited amount of chumming with shrimp or threadfin herring can lead to successful results. Once resident Nature Coast Tarpon find a constant food source usually they will hang out until a boat passes by or the catfish school in force (That's right! Catfish love chumming in the river). The top free-lined baits of choice include crabs and mullet as catfish usually shy away from baits they can't easily digest.
Choice flies for targeting river Tarpon include BIG, BLACK, Ugly flies such as oversized toads, dragon tails, and snakes.
————————————————————————————————————
Hot Bite
Migratory Tarpon schools are a huge draw for fly and light tackle anglers looking to hook into a true fish of a lifetime. Those same massive schools of Tarpon are also a major draw for a variety of predatory Sharks that actually prey on those large fish as they make their way up the coast. Now that the Tarpon schools have dwindled the hungry Sharks that still patrol our flats are hungrier than ever and are an easy target on spin and fly gear.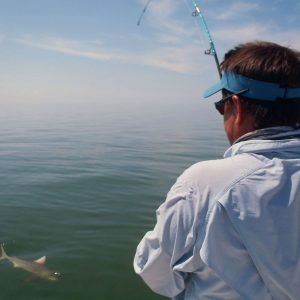 There are many shark species that inhabit the waters off the Gulf Coast this time of year but the most prevalent along our coast are the blacktip, bull, hammerhead, nurse, sandbar, bonnethead, spinner and tiger sharks. Each of these sharks have their own set of distinctive characteristics which makes them special but three of these species are fan favorites for their prevalence, fighting ability, and willingness to take a bait/fly in shallow water. Obviously, tiger and hammerhead sharks are the prized catches in the world of shark fishing as they are big and considered "dangerous" (even though they do not hunt humans), but in the world of shallow water fishing the spinner, blacktip, and bonnethead sharks are by far the easiest to target on fly and light tackle.
The beauty of the Nature Coast is that the mouths of our spring fed rivers act as nurseries for younger sharks that are more than willing to take bait or fly when presented naturally. When stalking or chumming for sharks it's important to remember that these fish key in on scent first and looks second. Soaking pieces of cut fish this time of year will surely lead to a tight line but for those anglers looking to hook into a shark on fly all that is needed is a fly that imitates your chum and can be stripped slowly with naturally moving materials that imitate drifting flesh.
PLEASE BE ADVISED THAT ALL SHARKS ARE CATCH AND RELEASE ON EVERY REEL FLORIDA FISHING ADVENTURE.