It's that time of year again when big Speckled Trout and Redfish prevail as the Nature Coasts top inshore fishing targets. Since the start of the New Year most anglers have found both of these species congregating in locations where moving water and baitfish have been prevalent during all tidal phases. Finding the right location that'll attract both of these species is as easy as finding areas of golden hard bottom that are holding concentrations of both pinfish and mud minnows.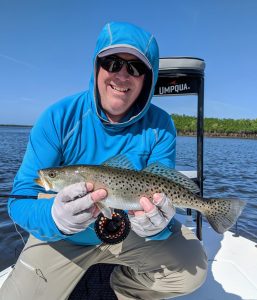 During the winter months most baitfish species seek out shallow lighter colored locations that tend to warm faster as the heat of the day progresses. It's the warmer water and abundance of prey that drive most game fish to these locations. When targeting fish in such shallow water it's very important to use baits or rigs that are capable of being fished shallow and slow.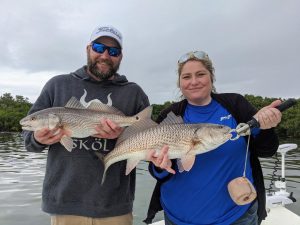 Fishing topwater lures and soft plastic jerkbaits is a great way to entice a bite from a hungry Trout or Redfish in shallow water. Most fish this time of year like a very slow retrieve due to the cooler water temps. Often when fish are extremely moody anglers will actually pause their lures for close to 5 seconds before beginning their very slow twitches again. Anglers should be prepared at all times for the pops and misses when using these lures. Unlike the summer time when most fish will crush anything that moves, the winter brings out lazy strikes that require patience.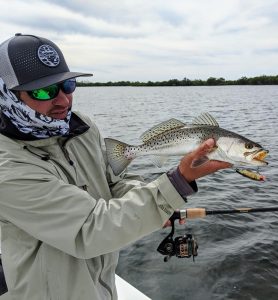 As the winter wears on, anglers can expect larger concentrations of big fish in extremely shallow water. While deeper grass flats will hold numbers, most of the Trout and Redfish inhabiting these areas will be of smaller schooling sizes ranging in the 8-15 inch ranges. Although smaller fish are more likely in deeper areas the consistency of catching makes these areas a ton of fun this time of year and as most anglers will find out the occasional pompano, ladyfish, and bluefish will always wake you up during a speckled trout bite.