2 pounds redfish fillets
3 to 4 tablespoons Old Bay Seasoning
1 tablespoon olive oil
4 lemons, halved
Preheat grill to high heat (400° to 450°). Preheat a 12-inch cast-iron skillet on grill for 15 minutes.
Pour melted butter in a shallow dish. Dip each fillet in butter, turning to coat. Sprinkle both sides of fillets with Slap Ya Mama Hot Cajun Seasoning; pat gently to coat.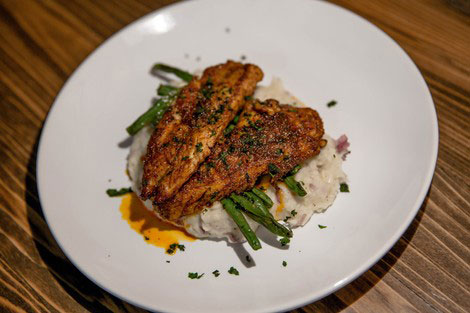 Add oil to skillet (oil should smoke); place fish in skillet. Cook, covered, until browned, 3 to 4 minutes. Turn, and cook, covered, until fish flakes easily with a fork, 3 to 4 minutes more. Carefully remove skillet from grill.
Place lemons, cut side down, on grill. Cook, covered, until charred, 3 to 4 minutes. Serve with fish.
Vegetable oil, for frying
1½ pounds redfish fillets, cut on the bias into 1½-inch strips
1 teaspoon kosher salt
1½ cups all-purpose flour
½ cup yellow cornmeal
2 tablespoons Old Bay seasoning
2 large eggs
1 tablespoon water
Sweet Chili Rémoulade (recipe follows)
6 (6-inch) loaves French bread, halved lengthwise and toasted
1 head Bibb lettuce, cored and shredded (about 6 ounces)
3 large beefsteak tomatoes, cored and cut crosswise into ¼-inch-thick slices (about 2 pounds)
1 medium shallot, cut lengthwise into ⅛-inch-thick slices
Fill a large Dutch oven halfway full with oil, and heat over medium-high heat until a deep-fry thermometer registers 375°.
In a large bowl, sprinkle fish with salt; set aside.
In another large bowl, whisk together flour, cornmeal, and Cajun seasoning. In a medium bowl, whisk together eggs and 1 tablespoon water.
Working in batches, dip fish in egg mixture, letting excess drip off. Dredge in flour mixture, shaking off excess. Fry fish until golden brown, 4 to 5 minutes. Remove using a spider strainer, and let drain on paper towels.
Spread about 3 tablespoons Sweet Chili Rémoulade on cut sides of each loaf. Top bottom halves with lettuce, tomatoes, shallot, and fried redfish; drizzle each with an additional 1 tablespoon Sweet Chili Rémoulade. Cover with top halves. Serve immediately.